Thursday, September 7, 2017, 4 – 5:30 pm (open till midnight!)
ALEXANDRA NELIPA, CAROLINA FLORES, RICHARD ARREDONDO
A Muse, Is A Muse, Is A Muse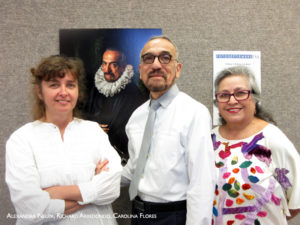 Curated by Brian St. John
Associate Professor, Chair of the Department of Art, Saint Mary's University
Saint Mary's University
Louis J. Blume Library Gallery
One Camino Santa Maria
San Antonio, TX 78228
(210) 436-3430 | www.stmarytx.edu
Opening reception:
Thursday, September 7, 2017, 4 – 5:30 pm
Exhibit on display: September 7 – 30, 2017
Viewing hours: Mon – Thu, 7:45 am – Midnight; Fri, 7:45 am – 6 pm
Sat, 1 – 6 pm; Sun, 1 pm – Midnight
Contact: Brian St. John
(210) 473-8331 | bstjohn@stmarytx.edu
Free and open to the public
An old soul inspires a photographer, and a painter in a beautiful collaboration of the three. Artists Alexandra Nelipa and Carolina Flores working together, create striking images inspired by Richard Arredondo posing as historical figures painted by El Greco. These photographic reinterpretations are time machines inciting the viewer's imagination to step into the picture and travel to a distant past into a bygone era.